"You cannot escape the responsibility of tomorrow by evading it today." - Abraham Lincoln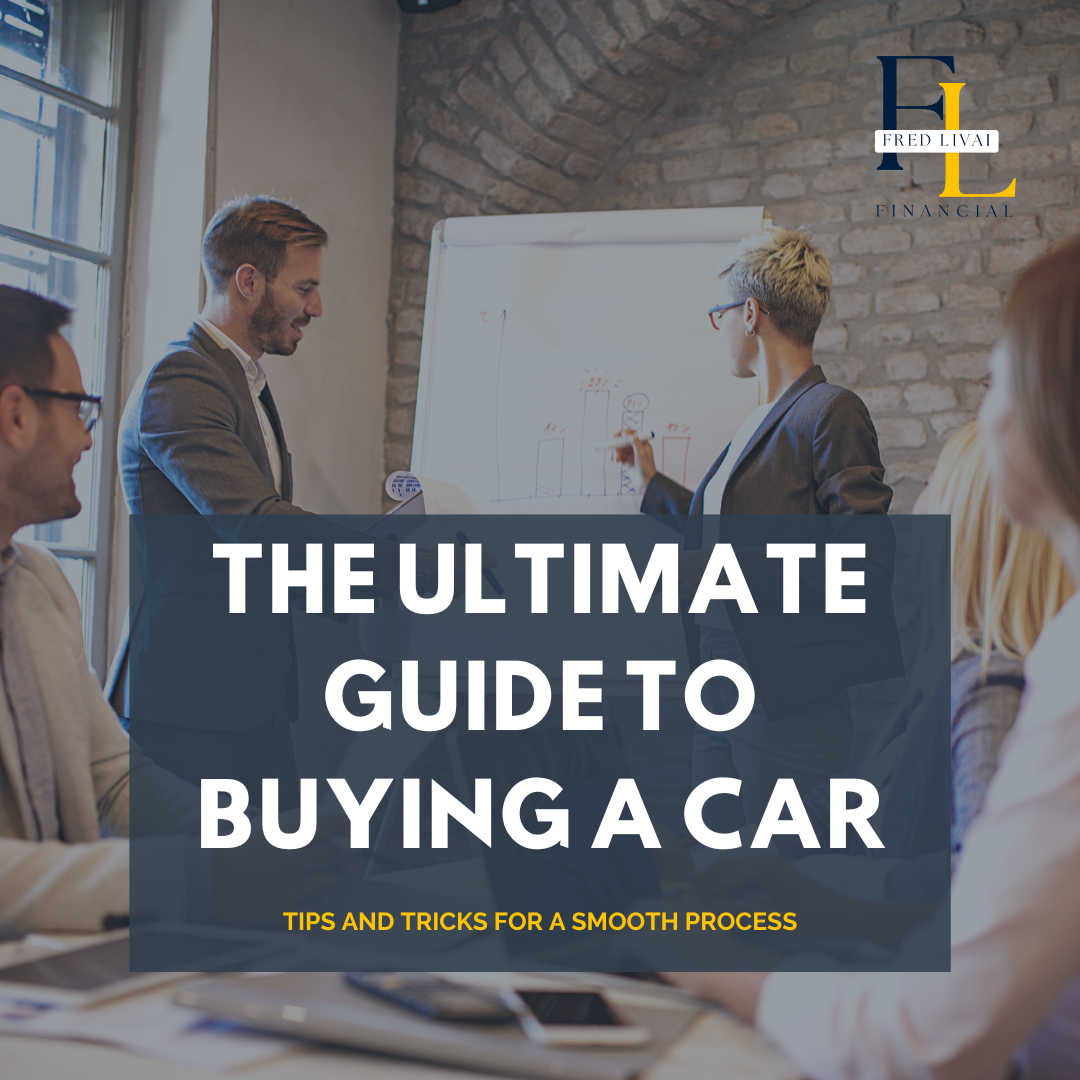 Buying a car is a significant life event. Whether it's your first car or your fifth, the process can be both exciting and daunting. However, with the right knowledge, careful planning, and a touch of patience, you can make buying a car a smooth and rewarding experience. In this comprehensive guide, I will provide you with real-life tips and tricks to help you navigate the intricate world of automobile purchasing. From conducting thorough research to negotiating effectively, I've got you covered. Plus, I'll introduce you to an essential step in the process—a free credit audit that can help you secure the best financing options. Read on to discover how to make your car-buying journey a breeze.
Define Your Needs and Budget
The first step in the car-buying process is to establish a clear understanding of your needs and budget. Before you even think about visiting a dealership, take the following into account:
a. Determine Your Budget: To avoid financial strain, it's crucial to determine how much you're willing to spend on your new vehicle. Consider factors like your down payment, monthly payments, insurance, and maintenance costs. Create a realistic budget that aligns with your financial situation.
b. Identify Your Needs: Think about your lifestyle and transportation requirements. Are you in need of a family car, a fuel-efficient commuter vehicle, or perhaps a sporty coupe? Consider any specific features you require, such as four-wheel drive, advanced safety technology, or ample cargo space.
c. New vs. Used: Decide whether you want to buy a new or used car. While new cars come with warranties and the latest features, used cars can offer substantial savings. Your choice will depend on your budget and preferences.
d. Fuel Efficiency: Factor in the long-term costs of fuel. Research the gas mileage of different models, particularly if you have a long commute or plan to take road trips. Opting for a fuel-efficient car can lead to substantial savings over time.
e. Resale Value: Investigate which car models hold their value well over time. A vehicle with strong resale value can significantly impact your overall ownership costs. This factor is especially important if you plan to trade in or sell your car down the road.
Research, Research, Research
Knowledge is power when it comes to buying a car. To make an informed decision, you'll need to roll up your sleeves and engage in thorough research:
a. Online Resources: Leverage automotive websites, forums, and review platforms to gather information about the make and model you're interested in. Pay close attention to user reviews, reliability ratings, and safety features. The insights from other buyers can be invaluable.
b. Compare Prices: The market value of the car you desire can vary significantly depending on the source. To get an accurate sense of the price, compare offers from dealerships, private sellers, and online listings. Trusted tools like Kelley Blue Book and Edmunds can help you determine fair market values.
c. Vehicle History Reports: If you're considering a used car, don't skip the vehicle history report. Simply provide the vehicle identification number (VIN) to obtain this crucial report, which can unveil important information about the car's past, including accidents, title status, and maintenance records.
d. Dealer Reputation: Investigate the reputation of dealerships in your area. Reading reviews and seeking recommendations from friends or family who've purchased cars locally can provide insights into the best places to do business.
e. Safety Ratings: Always check the safety ratings and crash test results for the car models you're considering. Prioritizing safety is essential, especially if you have a family or place a high value on passenger security.
Financing Options and a Free Credit Audit
Before you dive headfirst into the showroom, it's essential to secure your financing. Understanding your financing options not only helps you stick to your budget but also ensures you get the best possible terms. Plus, there's a crucial step here—a free credit audit that can put you in a stronger position for financing. Here's how to approach it:
a. Credit Check: Start by obtaining a copy of your credit report and credit score. This information is essential in understanding your creditworthiness, which can directly impact your interest rates. The higher your credit score, the better your financing options.
b. Pre-Approval: Consider getting pre-approved for an auto loan from a bank or credit union. Pre-approval gives you a clear budget and makes you a more attractive buyer to dealerships. It also ensures you know your financing options upfront.
c. Dealer Financing: While dealer financing is an option, be vigilant about high-interest rates and hidden fees. It's always wise to compare dealer offers with other financing options to ensure you're getting the best deal.
Call to Action: Now, before you move on to the next sections, take a moment to consider the significance of your credit score in securing favorable financing for your car purchase. A higher credit score can mean lower interest rates and more budget-friendly monthly payments. To help you get the best possible financing for your new vehicle, we offer a free credit audit. Our experts will assess your credit report, identify areas for improvement, and provide personalized guidance. To book your free credit audit appointment, CLICK HERE.
Test Drive and Inspection
Once you've narrowed down your options, it's time to get hands-on experience by test driving the cars you're interested in. A test drive is a pivotal step in evaluating the vehicle's condition and how it performs on the road. Here's what to focus on during your test drive:
a. Comfort and Ergonomics: Assess whether the car's seating, visibility, and controls are comfortable and intuitive for you. Remember, you'll spend a lot of time in this vehicle, so it's crucial to feel at ease.
b. Noise and Ride Quality: Pay close attention to road noise, engine noise, and the overall ride quality. A quiet, smooth ride can significantly enhance your driving experience.
c. Handling and Performance: Evaluate how the car accelerates, brakes, and handles different road conditions. Ensure it meets your expectations in terms of performance.
d. Inspection: If you're considering a used car, have a trusted mechanic inspect it for any hidden issues or potential problems. This step is crucial, as it can save you from costly repairs down the road. Additionally, inquire about the vehicle's maintenance history and any recent repairs.
e. Vehicle History: Ask the seller or dealer for maintenance records and inquire about any accidents or repairs the car has undergone. A transparent history is a good sign of a well-maintained vehicle.
Negotiation Strategies
Negotiating the price of a car can be a nerve-wracking experience for some, but it's a vital step in ensuring you get the best deal possible. Here are some effective negotiation strategies to keep in mind:
a. Be Prepared to Walk Away: Never feel pressured to make a decision on the spot. If the deal doesn't meet your expectations or align with your research, be prepared to walk away. There are always other options to explore.
b. Start with a Fair Offer: Begin negotiations with a reasonable, well-researched offer based on market values and your budget. Demonstrating that you've done your homework can give you an advantage.
c. Use Your Pre-Approval: If you secured pre-approval for financing, be sure to mention it to the dealer. It shows you're a serious buyer and can help you negotiate a better interest rate or financing terms.
d. Consider Add-Ons Carefully: Dealerships often offer additional features, warranties, or services. While some can be beneficial, others may not align with your needs or budget. Evaluate these extras carefully before committing.
e. Don't Be Afraid to Haggle: Polite but firm negotiation is expected in the car-buying process. Don't hesitate to counteroffer and request discounts or incentives.
f. Be Patient: Negotiating may take time. Be patient and don't rush into a deal. It's better to wait for the right opportunity that fits your budget and expectations.
Paperwork and Documentation
Before you drive off with your new car, there's a stack of paperwork and documentation to complete. Ensuring all these steps are taken care of is vital:
a. Bill of Sale: A bill of sale is a legal document that outlines the terms and conditions of the sale. It should include the purchase price, vehicle description, and both the buyer's and seller's information. This document is essential for the sale to be legally binding.
b. Title and Registration: Ensure you receive a clear title from the seller. The title proves that you are the rightful owner of the vehicle and will be needed to register it in your name.
c. Warranty Information: Review the warranty information, if applicable, and understand the coverage and duration. This will be crucial if you encounter any issues with your vehicle in the future.
d. Insurance: Arrange insurance coverage for your new vehicle before driving it off the lot. Adequate insurance coverage is not only a legal requirement but also vital for protecting your investment.
e. Vehicle History Report: Keep a copy of the vehicle history report for your records. This document can be useful for future reference and may be required if you decide to sell the car later.
Post-Purchase Considerations
After you've purchased your car, there are still some important steps to take to ensure your investment remains secure and enjoyable:
a. Insurance: Update your insurance policy to include your new vehicle. Make sure your coverage is appropriate for your needs and budget.
b. Maintenance Schedule: Familiarize yourself with the manufacturer's recommended maintenance schedule. Regular maintenance is essential to keep your car in top condition and avoid costly repairs down the road.
c. Extended Warranty: If you're interested in extended warranties, research your options and consider purchasing one if it aligns with your needs and provides peace of mind.
d. Protect Your Investment: Consider investing in accessories or services that can protect your vehicle. Car covers, security systems, and regular detailing can help maintain the value and appearance of your car.
As you navigate the car-buying journey, remember that your credit score plays a pivotal role in securing favorable financing terms. To help you get the best possible financing for your new vehicle, we offer a free credit audit. Our experts will assess your credit report, identify areas for improvement, and provide personalized guidance. Don't miss this opportunity to optimize your credit and enhance your car-buying experience. To book your free credit audit appointment, CLICK HERE.
Buying a car can be a smooth and rewarding process when you approach it with careful planning and research. By defining your needs and budget, conducting thorough research, securing financing, and following a structured approach to negotiations and paperwork, you can confidently embark on your car-buying journey. Don't forget to take advantage of the free credit audit to secure the best financing terms. With these tips and tricks in mind, you'll not only find the perfect vehicle for your needs but also enjoy peace of mind knowing you've made an informed and financially sound decision. Happy car shopping!