"Cash flow tells you that there's something going on with the property. Appreciation tells you that there's something going on in the neighborhood, city, or even the state." - Robert Kiyosaki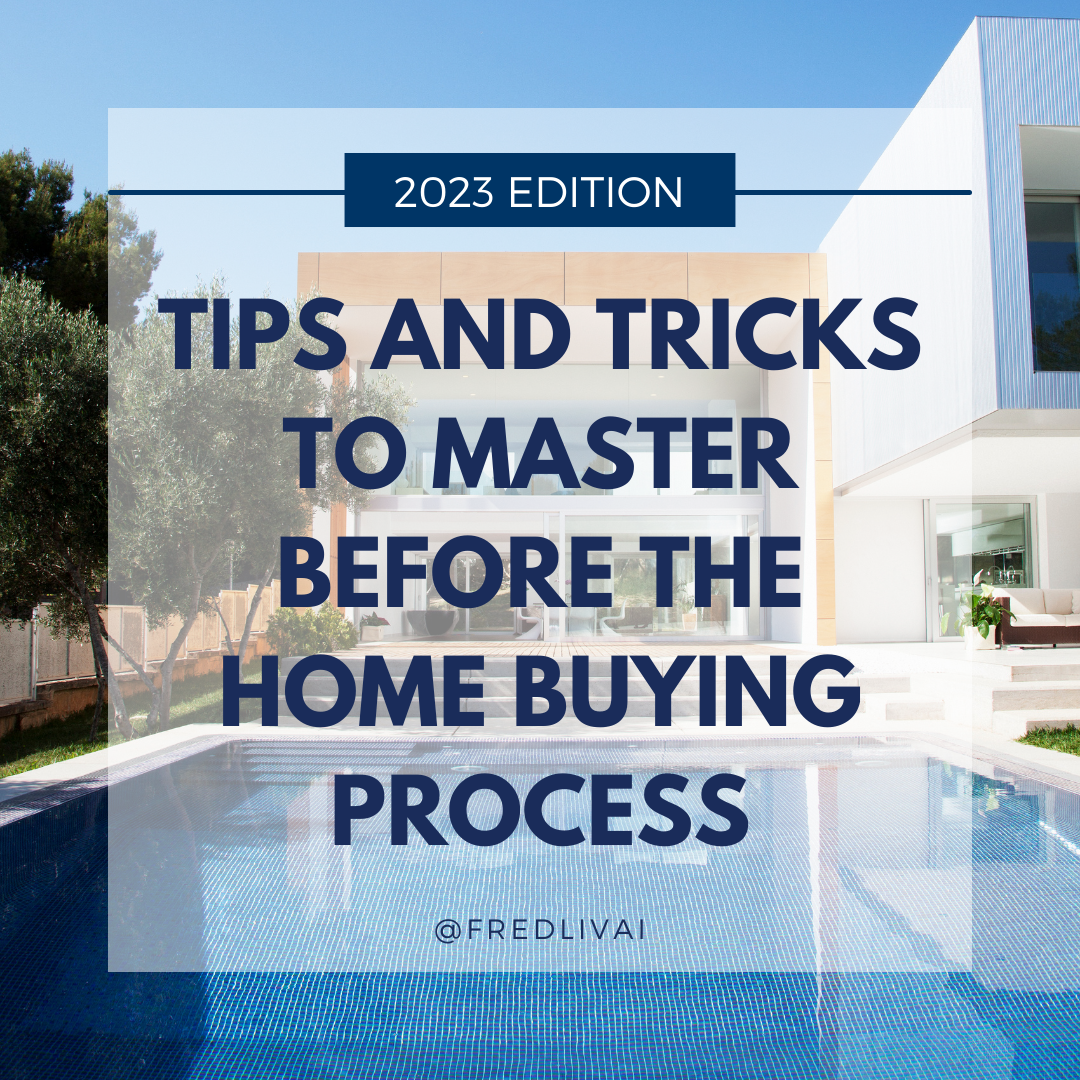 Buying a home is one of the most significant financial commitments you'll make in your lifetime. It's both exhilarating and daunting, especially for first-time homebuyers. Whether you're on the hunt for your dream house or a starter home, being adequately prepared can simplify the process and reduce the stress. Here are some tips and tricks to keep in mind before diving into the home buying process:
1. Evaluate Your Financial Health:
Budgeting: Begin with a solid understanding of your monthly income, expenses, and potential homeownership costs. A home is more than just its purchase price; consider property taxes, homeowner's insurance, maintenance, and utility bills.

Credit Score: Your credit score significantly influences your mortgage rates. Ensure you have a good credit score by paying off outstanding debts, not opening new credit lines, and checking your credit report for errors.

Down Payment: While many buyers aim for a 20% down payment, there are various loan options with lower down payment requirements. Start saving early, and investigate loan options that best fit your financial situation.
2. Get Pre-Approved for a Mortgage: Before house hunting, get a mortgage pre-approval. This will give you a clear picture of what you can afford and shows sellers you're a serious buyer. It also gives you an advantage in competitive markets where homes receive multiple offers.
3. Define Your Needs vs. Wants: Make a two-column list. One for essential features you need in your home (number of bedrooms, proximity to work, etc.) and another for desired but not essential features (swimming pool, home theater, etc.). This will help focus your search and make trade-offs if necessary.
4. Understand the Market: Real estate markets can be seller's markets, buyer's markets, or neutral. Research local market trends, or better yet, consult with a real estate professional who can provide insights into whether homes are selling above, below, or at their asking prices.
5. Work with an Experienced Realtor: A knowledgeable realtor can provide valuable insights about neighborhoods, comparable homes, potential red flags, and negotiation strategies. They can also access homes before they're publicly listed, giving you a competitive edge.
6. Prioritize Home Inspections: Before purchasing, always get a professional home inspection. They can uncover hidden problems like foundation issues, water damage, or outdated electrical systems. Use the findings to negotiate repairs or a better price.
7. Consider Future Resale Value: Even if you plan to stay in your new home for decades, it's smart to think about its potential resale value. Factors like the home's location, size, condition, and the local school system can influence future buyers.
8. Attend Open Houses and Showings: Don't rely solely on online listings. Physically attending open houses and private showings allows you to get a genuine feel of the property, neighborhood, and potential issues photos might not capture.
9. Understand All Costs Involved: Besides the down payment and monthly mortgage, you'll have closing costs, which can range from 2% to 5% of the loan amount. There's also moving expenses, immediate home improvements, and potential homeowner association fees.
10. Stay Emotionally Grounded: Buying a home is emotional, but it's crucial to stay objective. Falling in love with a property can blind you to its faults or lead you to overextend your budget. Stick to your priorities, and be prepared to walk away if a deal isn't right.
11. Think Long-term: Are you planning on starting a family? Might you need a home office in the future? Buy a home that caters not just to your current situation but also accommodates possible life changes.
12. Be Ready to Compromise: It's rare to find a home that meets every single criterion on your list. Understand what you're willing to compromise on, whether it's the size, location, or certain amenities.
13. Location is Paramount: A beautiful home in the wrong location might not be the best buy. Consider the property's proximity to work, public transportation, schools (even if you don't have kids, this can influence resale value), and amenities like shopping and entertainment.
14. Keep an Emergency Fund: Even after you've moved in, unexpected expenses can arise. Maintaining an emergency fund can cushion the impact of unplanned repairs or job loss.
15. Stay Patient: Finally, remember that buying a home is a journey. It might take time to find the perfect home within your budget, especially in a competitive market. Be patient and trust the process.
Homebuying, while complex, can be streamlined and less intimidating with adequate preparation. By understanding your finances, defining your priorities, leveraging professional assistance, and keeping an eye on the future, you'll be well on your way to making an informed and confident purchase. Welcome to homeownership!